---
Data opublikowania: 27 października, 2022 12:02 pm
---
Jeśli posiadasz drugie urządzenie możesz skorzystać z połączenia SSH. Ułatwi to znacząco pracę przy instalacji systemu. Domyślnie instalator Arch Linux posiada zainstalowany serwer SSH, który jest aktywny i gotowy do pracy. Jedyne co należy zrobić to nadać hasło do konta root dla sesji live. Wykonanie poniższej komendy i dwukrotne wpisanie hasła ustawi je:
passwd
Następnie uruchom dowolnego klienta ssh i połącz się do maszyny podając jej:
IP
login: root
hasło nadane w poprzednim kroku
W systemie Linux możesz również użyć terminala o ile posiada komendę ssh. Połączenie wywołasz poleceniem:
ssh root@<adres_ip>
Notka:
<adres_ip> to adres IP urządzenia, na które chcesz się połączyć
Potwierdź połączenie nadanym wcześniej hasłem. W rezultacie powinieneś otrzymać dostęp do konta root w sesji live. Dzięki temu możesz kontynuować instalację oprogramowania z poziomu tej sesji.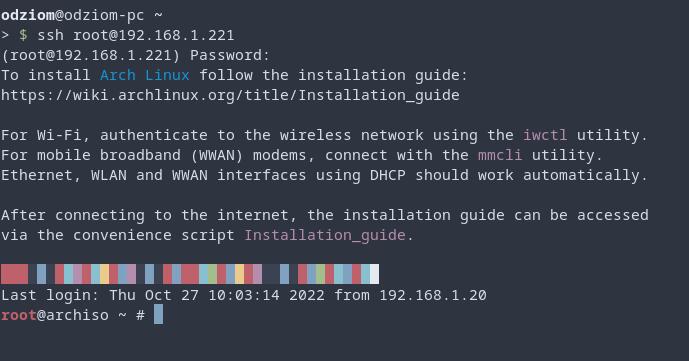 ---